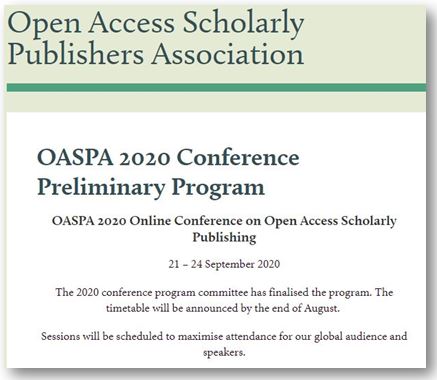 Representando a comunidade de editores acadêmicos e organizações relacionadas, a Associação de Editores Acadêmicos em Acesso Aberto (Open Access Scholarly Publishers Association – OASPA) trabalha para apoiar a transição para um mundo em que o acesso aberto se torne o modelo predominante de publicação para publicações acadêmicas.
A Associação está comprometida com a missão de desenvolver e disseminar soluções de publicação que promovam o acesso aberto, preservem a integridade da academia e promovam as melhores práticas. O objetivo é garantir um mercado de acesso aberto diversificado, vibrante e saudável que oferece suporte a uma ampla variedade de soluções inovadoras e modelos de negócios.
Todos os os membros passam por um rigoroso procedimento de revisão inicial e devem, então, continuar a exemplificar altos padrões para permanecerem parte da OASPA. Ter esse processo de avaliação central garante que representem apenas organizações que compartilham a dedicação em manter as melhores práticas de publicação OA globalmente.
De 21 a 24 de setembro de 2020 será realizada a OASPA Conference 2020 (online) com o tema Open Access at a Time of Global Challenge. O programa preliminar já está disponível.
Informações sobre conferências anteriores da OASPA podem ser encontradas nos seguintes links:
== Confira a Programação 2020 ==
Monday 21 Sept. 2020 – Multilingualism Pre-Conference Satellite Workshop – a separate event.
Tuesday 22 – Thursday 24 September 2020
Welcome
Claire Redhead, Executive Director, OASPA
Jennifer Gibson, Head of Open Research Communication, eLife / Chair of the OASPA 2020 Program Committee

Opening Discussion: Open access at a time of global challenge: How has the world changed?
Juliette Mutheu, African Academy of Sciences, Kenya
Erin O'Shea, President of the Howard Hughes Medical Institute, USA
Cesar Victora, Federal University of Pelotas, Brazil
Moderator: Catriona MacCallum, Hindawi, UK

Keynotes 
Anurag Acharya, Co-founder of Google Scholar, USA
Introduced by Abel Packer, SciELO, Brazil
Professor Wei Yang, Academician of the Chinese Academy of Sciences and former Director of the National Natural Science Foundation of China
Introduced by Shuai Yan, Independent Consultant, China

Panels

Open infrastructure: What forms of community-owned and open-source systems are important and why? 
Kaitlin Thaney Invest in Open Infrastructure, USA
Dasapta Erwin Irawan Institut Teknologi Bandung (ITB), Indonesia
Devika Madalli Indian Statistical Institute/Research Data Alliance,  India
Arley Soto Biteca, Colombia
Chair: Juan Pablo Alperin, ScholCommLab/Public Knowledge Project, Canada

Funding and business mechanisms for equitable open access
Vivian Berghahn Berghahn Books, UK
Sharla Lair LYRASIS, USA
Samuel A. Moore Coventry University, UK
Alexia Hudson-Ward Oberlin College and Conservatory, USA
Chair: Charles Watkinson,  University of Michigan, USA

Pricing and cost transparency: Is it time to unbundle the "end to end" publication process?
Johan Rooryck Plan S and Leiden University, The Netherlands
Kathleen Shearer COAR, Canada
Lucy Barnes Open Book Publishers / University of Cambridge, UK
Jasmin Lange Brill, The Netherlands
Chair: Emma Wilson, Royal Society of Chemistry, UK 

Small and scholar-led publishers: What lessons can they teach us?
Ritsuko Nakajima, Japan Science and Technology Agency, Japan
Elisabeth Adriana Dudziak, USP Journal Portal, Brazil
Pierre Mounier, OPERAS, France 
Salmina Mokgehle, Agricultural Research Council (ARC), South Africa
Chair: Salmina Mokgehle, Agricultural Research Council (ARC), South Africa

Researchers, open science and open access behaviours – what changed in 2020?
Thirumalachari Ramasami Former Indian Science and Technology Secretary, India
James Wilsdon RORI, UK
Pan Yang Chinese Medical Association's Publishing House, China
Hélène Draux Digital Science, UK
Chair: Catriona MacCallum, Hindawi, UK

The future of open research communication: Where are we headed and how could we prepare?
Alex Mendonça  SciELO, Brazil
Elena Giglia University of Turin, Italy
Kristen Ratan Stratos (Strategies for Open Science), USA
Chair: Xenia van Edig, Technische Informationsbibliothek, TIB
Poster Lightning Talks 
Chair: Jennifer Gibson, eLife, UK
Open Science—for and with communities, and beyond open access
Budd Hall, University of Victoria, Canada and Leslie Chan, University of Toronto, Canada
Helsinki Initiative on Multilingualism in Scholarly Communication
Janne Pölönen, Federation of Finnish Learned Societies, Finland
Has the COVID-19 pandemic changed the way we publish research?
Sarah Greaves, Hindawi, UK
Transitioning journals to open access via stakeholder-governed infrastructures
Jeroen Sondervan, Utrecht University, The Netherlands and Sofie Wennström, National Library of Sweden
Research data and the academic reward system
Erica Morissette, ScholCommLab and University of Ottawa / Meaningful Data Counts, Canada
The impact of COVID-19 on data sharing and the future of FAIR
Alan Hyndman, Figshare, UK
The Microbiology Society on Transformative agreements
Tasha Mellins-Cohen, The Microbiology Society, UK
Make Data Count: why publishers need to be citing data
Rachael Lammey, Crossref, UK
Review Commons: a journal-independent peer review platform
Sara Monaco, EMBO and ASAPBio, USA
Sustainable Open Access: Scholar-led, Non-APC and (Biblio-)diverse
Marcel Wrzesinski, Humboldt Institute for Internet and Society (HIIG), Germany
Global grant IDs in Europe PMC
Christine Ferguson, EMBL-EBI, UK
OAPEN Open Access Books Toolkit
Christina Emery, Springer Nature, UK
Linking Publications to Institutions Using Open ROR IDs
Maria Gould The Research Organization Registry (ROR), USA
As-you-go instead of after-the-fact: Free, open, and modular research communication
Chris Hartgerink, Liberate Science, Germany
preLights – a community platform for preprint highlights
Mate Palfy, The Company of Biologists, UK
Creative Commons NC Licenses – Open or Not so Open Access?
Vincent W.J. van Gerven Oei, punctum books
Interactive dashboard of the OA Journal Landscape
Maurits van der Graaf, Pleiade Management and Consultancy, The Netherlands
CoVis – a new tool to discover reliable COVID-19 research
Peter Kraker, Open Knowledge Maps, Austria
Towards Open Physics
Daniel Keirs, IOP Publishing, UK
Introducing the Initiative for Open Abstracts
Speaker TBC, Initiative for Open Abstracts (I4OA)

Closing Remarks
Jennifer Gibson, eLife, UK / Chair of OASPA 2020 Conference Committee
2020 OASPA Conference Committee
Jennifer Gibson (eLife) – Chair
Xenia van Edig (Technische Informationsbibliothek, TIB)
Catriona MacCallum (Hindawi)
Emma Wilson (Royal Society of Chemistry)
Juan Pablo Alperin (ScholCommLab/Public Knowledge Project)
Abel Packer (SciELO)
Shuai Yan  (Independent Consultant, China)
Charles Watkinson (University of Michigan)